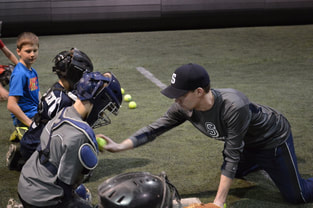 Training Services
Our qualified training staff uses cutting edge technology and years of experience to offer the following training services:
One on One Training in all facets of the game
(Pitching, Hitting, Catching, etc.)
Strength & Agility Training
Recruiting Services to take high school players to the next level
---
TRAINING SERVICES & RENTAL PRICING*
* Pricing Discounts apply to Training/Rental package of $350 or more!!
​Please contact us for package quotes.
Individual Training
(One on One Lessons)
$70 per Hour
*Training time purchased can be used in 1 hour or 1/2 hour increments
​

Group Training
(2-4 Athletes)
$35 per Athlete/Hour
(5+ Athletes)
$20 per Athlete/Hour​

Batting Cage/Lane
Rental
1/2 Hour $20
1 Hour $30
HitTrax Training SytemAdd to any training session for only $25 per HourHitTrax
™ was the first baseball simulator and continues to be the industry leader. A powerful combination of analytics and entertainment that has never before been available to indoor facilities. Patented technology delivers innovation to the baseball industry by measuring real-time data and displaying live results for immediate feedback.
HitTrax
™ allows you to hit beyond the cage!!
HitTrax

provides real-time stats and key performance metrics,
along with powerful video analysis, trend reports and more.
Patented technology provides a one-of-a-kind experience that fosters player engagement and a meaningful connection with instruction. The system contains modules for not only hitting but also for catching and pitching!
Full Facility Rental
$135/Hour



Recruiting Services
Package includes video professional evaluation, consultation and area coaches contact information. $200

Pro Evalutation
Are you prepared to compete at the next level? How far can you go (Varsity, College, Pro)?
Coach Tim MacKinnon, a veteran MLB scout, will provide you with a full professional evaluation and feedback to help you get to the next level!!

Evaluation Includes:
Complete in facility evaluation/training session
Coaches eye videos with voice over analysis
Written evaluation sheet
Follow up consultation with player & parents

Full evaluation is only $99 so Contact sluggers to book your evaluation time today!!


---
---
Facility Hours
M-F 5-8PM
SAT 9AM-Noon

Contact Info
(616) 803-0646
info@sluggerssportsacademy.com


Location
4540 East Paris Ave, Suite B
Kentwood, MI 49512